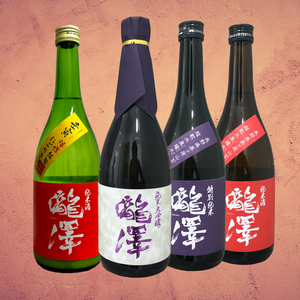 Takizawa - Junmai Set Limited
$24000

$240.00

Save $50
Tax included.
---
---
Special for Jan 2023, while stocks last!
We have a very small amount of winter seasonal Takizawa Junmai Nigori (i.e. cloudy sake), and we've put it into the Junmai bundle just for you. While stocks last! 
The Junmai Nigori is full flavoured with that beautiful creamy texture. Super fresh too, so it's still got a little zing to it. Refreshing and a real treat for the senses!
At a special package price, 1 bottle (720ml) of each 
- Takizawa Junmai Daiginjo [Delicate & Sweet]
- Takizawa Tokubetsu Junmai [Refreshing & Aromatic]

- Takizawa Junmai [Complex & Deep]
- Takizawa Junmai Nigori [Full, Bold & Creamy]